I just got back from trip to France with my family. We started in Paris then moved on to the Perigord region. In Paris we went to the Natural History Museum and the Menagerie at the gardens.
If anyone is ever looking for something to do in Paris that's not super touristy, go to the gardens. It's right by the Paris Mosque which has a great restaurant and
tea salon in it. We also went to the Musee d'Orsay which specializes in
Impressionist art. If you are a chocolate fan like I am, you MUST go to Maison du Chocolat, they have the best
chocolate I have ever had. And, if you're there med July
to mid August you can buy their ice cream and sorbet which are both out of this world.
We drove to the Perigord region which is about 6 hours south of Paris. We stayed with a
friend near Belves. Some good day trips included the canoe trip down the Dordogne River and falcon show at Chateau des Milandes.
I also got in some birding while
overseas. I saw 27 new species that I
added to my life list. These included the European Goldfinch
(Carduelis carduelis)
which is quite the talker for such a tiny bird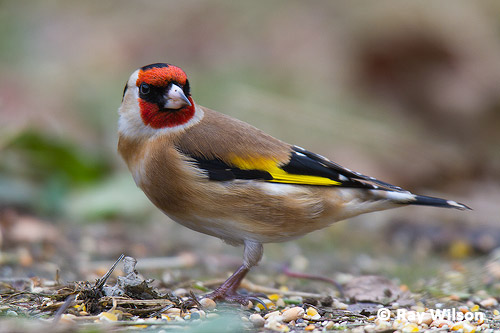 , Blue Tit (Cyanistes caeruleus) which likes to hang upside down from branches
, and the Common Buzzard which we saw munching on a rabbit on the side of the road(Buteo buteo).